(323) 238-3554
5101 w sunset blvd
Los Angeles CA 90027
Order Online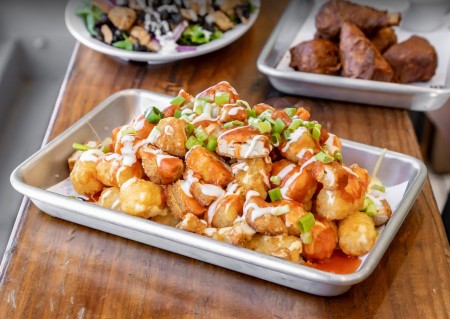 Buffalo Chicken Tots
Tater tots, Vegan Gardein chicken, Topped with ranch, Buffalo sauce, Special house sauce and sprinkle of green onion..
---
You may also like
See those other items from Loaded.
---
Fries, Follow Your Heart Cheese, Mushroom, Corn, Garlic ranch and cilantro.

Freshly made tortilla chips, Beyond meat, black beans, Melted follow your heart cheese, Green onion, Fresh tomato, Avocado sauce, House sauce and 2oz jalapeno on the side

Jackfruit carnitas, Follow your heart cheese, Tomato, Red cabbage, Ranch, Spicy chipotle BBQ sauce on French fries.